Have you searched online lately for Islamic decals to be overwhelmed by the sheer number that are available in the market? How are you to know which company to trust and which ones you can depend on to actually sell the highest-quality calligraphy that is truly made by master calligraphers and artists?
You are not alone in your concerns. Islamic wall decals have become quite popular and many business have popped to make a quick buck off this great tradition of Islamic calligraphy.
Unfortunately, let' face it: most of us don't know enough about Arabic calligraphy to understand which companies are selling high quality art and which ones are simply pawning Arabic clip art (read below about this unfortunate phenomena).
The good news is that there is one company out there who understands that a principled company does everything it possibly can to offer you the best Islamic artwork available anywhere and will shed no expense to make sure you receive nothing but the most amazing artwork available anywhere.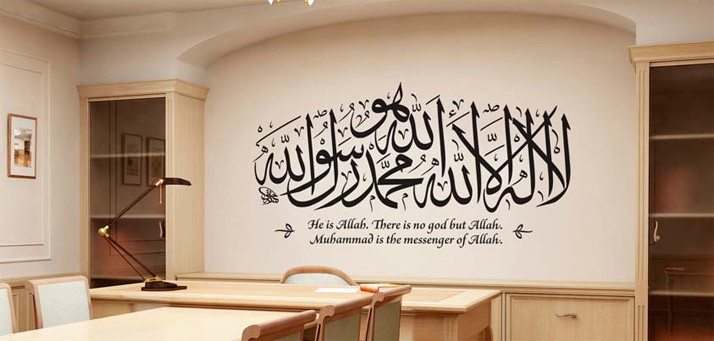 Our best-selling Shahada [Thuluth Arch) Islamic wall decal with an optional English translation.
Irada Wall Decals
Irada is unlike any other Islamic decal company out there. We're the only one that works with the world's greatest calligraphers to bring you a vast selection of some of the world's greatest calligraphy ever produced.
Not only are we passionate about the excellence of our artwork but we are also passionate about customer service, offering you a 100% peace-of-mind shopping experience with a 100% money-back guarantee.
So not only is Irada is out to change the face of Islamic art but we are out to change the concept of the ethics and essence of just what exactly is an "Islamic business."
In essence, Irada is more than just an Islamic art shop. We are a movement. We're a movement that stands for tradition and history; We're a movement built on excellence (itqan); We're a movement that understands modern tastes; We're a movement built on artistry that rejects fads and instead creates works of timeless beauty; We're a movement built on creating works that are both beautiful (jamal) and majestic (jalal); We're a movement that strives for clarity and simplicity in our business practices; We're a movement that centered on love; We're a movement that honors experience and expertise; We're a movement built on integrity with a rock-solid 365-day, 100% money-back guarantee; We're a movement centered on providing you the highest service we possibly can;
We're a movement built around mastery of classic art principles of form, space, harmony, balance, proportion, unity, energy, structure, color, value, density, hierarchy, texture, scale, repetition, variety, pattern, emphasis, contrast, rhythm and movement.
In short, we're a movement that seeks excellence in all we do in our aim to turn every Muslim home, masjid, and Islamic school into a beautiful and majestic reflection of The Divine!
We promote skill and artistic training through the mindful selection and production of calligraphy masterpieces that call to Divine longing. We aim to enrich the modern discourse and offer a fine Islamic calligraphy products to lovers of the spiritual world. We strive to add warmth to your home organically and intrinsically, the way the Muslims have done so for centuries — by making Islamic calligraphy an integral part of your home.
However we do it with a twist … We don't sell your traditional framed artwork. We have something far more transformative that we offer…
Premium classical Islamic art in a modern wall decal format.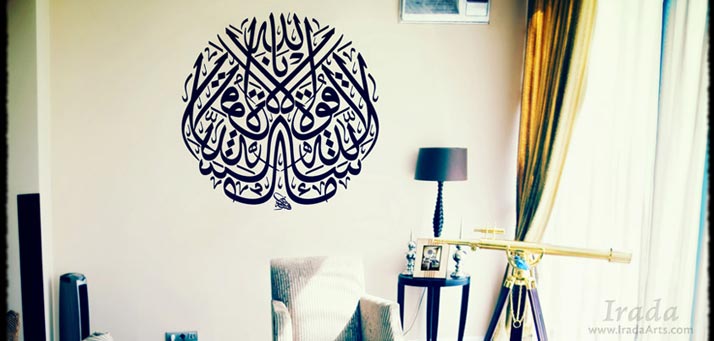 Our exclusive Masha'Allah. La Quwwata illa Bilah Islamic wall decal by Ustadh Mothana.
Why Decals?
If you are searching to purchase Islamic art and calligraphy online today, it can lead you into an array of different options with varying degrees of expertise and quality. There are digital prints, posters, canvas prints, original fine art auctions with ancient folios reaching in the tens of thousands of dollars, there is homemade untrained calligraphy work for sale in oil, pastel and acrylics. You may also find abstract, ornamental arabesque and other categories of Islamic art work. Other sites will direct you do-it-yourself instructions and stencils. You will certainly find the mass produced imports from China with machine etched glass and of course the ubiquitous gold(ish)-plated works.
All of these options have represent different tastes, styles, colors and of course gear to a particular budget. However before even considering these you must ask yourself the most essential questions when buying Islamic art:
How will this piece play a role in transforming my home?
How will it transfer my experience from the mundane and physical into the spiritual and everlasting impression I'm thirsting for on my search for Islamic art and calligraphy?
Once you ask yourself these questions and compare Irada artwork with others you will see why wall decals from Irada are perhaps the best option for your Islamic decorations needs.
By removing the frame and mat from the calligraphy piece our decals can reign supreme in large sizes on your wall, adding a strong sense of majesty to go along with the proportionate beauty of classical Islamic calligraphy and art. Unlike other kinds of artwork that you tend to ignore after a few weeks, Irada decals are bold and majestic. They capture your attention every time and make you and your family reflect on Allah and His message over and over again in an absolutely beautiful and stunning manner.
Besides all of the reasons we mentioned so far there are many other benefits of decorating with decals:
Great for Renters: wall decals are the perfect solution for apartment living when you are not allowed to make holes in the walls. They simply stick on the wall for years and are easily removed without damaging the wall when it's time to move.
Great Investment: They are also great for homes because they can last several years, making a wonderful investment that averages $5–20 a year for the life of the artwork. A meager price the the transformative effect it has on the household and guests.
Flexible: Besides the most common application of applying them to walls, decals can also be adhered onto a canvas if you would like to transform the beauty from room to room or apartment to a house. They can also be placed on windows, mirrors, wood, cars, and more.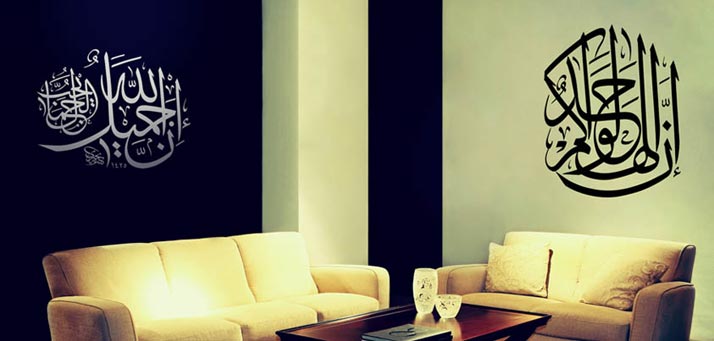 Our exclusives artwork from Ustadh Behiri. LEFT: Allah is Beautiful. RIGHT: Your God is One.
What Makes an Irada Art
The walls of the Cordoba Masjid and the great Taj Mahal were not plain flat structures with art "hanging" on them, instead the structure itself was the masterpiece. This is the goal of Irada Islamic wall decals. Far from being merely "stickers" like you collected in grade-school, these decals take a long journey before they reach a blessed wall destined to ornamented with the names of the Divine:
First, a master and trained calligrapher spent years practicing, reviewing and learning before he or she was given license to produce original works.
Then a special destiny had to take place between people where value and appreciation plays a role in recognizing the sheer endurance and devotion this training takes.
Then selections are made and our art tradition is supported.
From there our artists work with the most sophisticated programs to enlarge and scale the works into the best programs available with each artwork carefully edited to look amazing at different sizes.
Next, these works must be spread out on the table and laser cut to perfection to be an exact depiction of the original all on the most high quality adhesive that will not bubble in the summer or shrink in the winter.
Lastly, all of these products must be prepared in color choices, available for viewing online, ready to ship, and have easy and clear instructions to accompany them along with a free gift decal to practice with.
The original works that these Islamic wall decals are exact replicas of would cost you thousands of dollars for the original. With Irada wall decals you not only get the skilled and quality calligraphy but in a larger and more transformative format in a budget that is affordable. Unlike hanging the original, by applying the wall decal you transform your space instead of merely adding something to it.
Much like the great Islamic architects and calligraphers did in the greatest Islamic centuries, our wall decal calligraphy becomes a part of the beauty of your home, completely altering the space into something spiritual. This observation has been made my many who feature Irada arts on their walls, along with the amount of comments and questions you will get from your guests on its charm and impression.
It is a great blessing and baraka to have the names of Allah, and the great sayings of the Prophet, Allah bless him and give him peace in your living space. You experience the wonder of joy and faith that fill the space and constantly remind you of who you are. The elegant curves of the Taliq script will whisk your heart away, while the square Kufic script will ground your inner being and remind you of the primordial call of your Lord, and its square corners make it a nice complement to any modern decor. Our Maghribi script decals invoke a sense of organic fluidity that is part spontaneous. Our artworks that utilize the majestic Thuluth script combines much of the best qualities of all other scripts into what is often called the mother of all Arabic scripts, creating a sense of majesty that is unparalleled.
In essence each decal has its own unique message, style and spiritual expression. The entire Irada collection is based upon the works of skilled artisans and masters of Islamic calligraphy. With Irada wall decals your home adorns nothing but the best.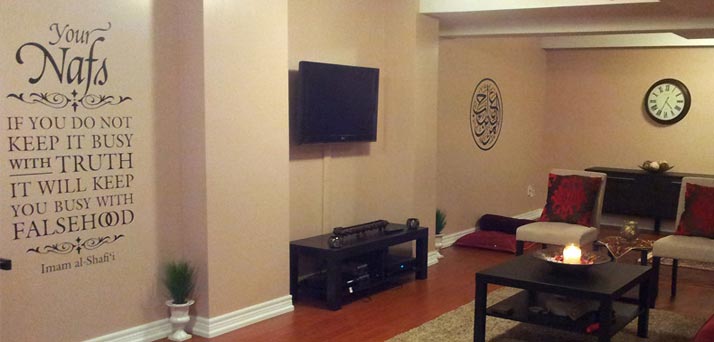 A customer-submitted image of a room after it was Irada-cized. LEFT: Busy Your Nafs (Swash). RIGHT: Be With Your Beloved.
What separates Irada from other sellers of Islamic decals?
If you search around you will find many companies selling Islamic decals. So what separates Irada from the rest? Here are a couple things you should keep in mind when buying Islamic wall decals.
Expertise: You will be hard pressed to find another company selling Islamic decals that employ master calligraphers working for them. Irada has several world-renown calligraphers and artisans who work on every part of the process. Although this means we pay much, much more in our development of the artwork it gives you the peace of mind knowing that you are paying for the absolute best. Most other companies we find sell many calligraphy pieces with very basic, elementary mistakes in them because they never employed a master in the first place. We even saw one company sell a calligraphy piece that was not only written by an amateur who had little mastery over his strokes but also misspelled an ayat of Quran! Without even checking if their artwork actually is spelling the Words of God correctly they quickly massed produced it and started selling it for wholesale to buyers all over the world! Irada only sells exclusive artwork made by masters.
Integrity: This is a word that few dare to use but is at the core of what separates Irada from the rest. Why is integrity so important in Islamic art? The reason is this: We're going to let you in on one of the biggest secrets in the Islamic decal market. Up until we published this article, it was something known to very few besides of the owners of these companies.
The secret is this: the vast majority of "artwork" that these companies are selling are simply free clip art, fonts, and files that were poorly digitized by amateurs who know nothing about Arabic calligraphy! This is easily discernible by the fact that if you search around you'll find many companies selling the same exact designs! What gives it away further is that their catalog of artwork uses the same files from the a single set of clip art and fonts.
In their rush to beef up their catalog and reduce costs along with the fact that most business owners of these companies know very little about calligraphy, they sought free artwork that they could start selling. What's worse is that many times these artworks were digitized without permission of the original artist. Without consideration of who the artists of these works are, off these companies went selling artwork by calligraphers without their permission. To make matters worse they were poorly digitized by hacks who don't have the slightest understanding of Arabic letters and calligraphy making very elementary mistakes in the forms.
Many companies lack the basic integrity of taking basic precautions to not only ask the calligraphers first and pay them for their work but then make it worse by not even giving the customer their due by putting in the effort in getting an expert to digitize it correctly. Meanwhile many great calligraphers we know are barely getting by, struggling to put food in their family's mouth meanwhile companies are making tons off their artwork without their permission!
The ironic and sad thing is that many customers were only seeking to please their Lord by decorating their homes with high quality Islamic artwork. Instead what they ended up decorating their homes with what was actually stolen artwork that were poorly digitized just because the company they bought the artwork from was selling it for cheaper than others do, not knowing just how many corners were cut to make such cheap artwork.
What's even worse is that some companies even have the audacity to sell this stolen, poorly digitized artwork for a higher fees then we charge for our exclusive artwork written and digitized by the world's greatest calligraphers!
In this kind of market all we can say is caveat emptor (buyer beware)!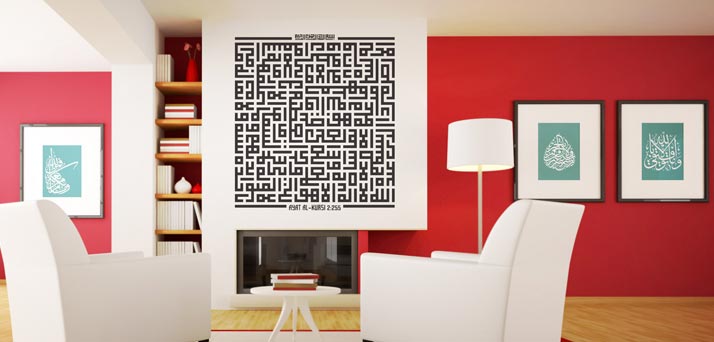 Our best selling Ayat Al-Kursi [Kufic] wall decal placed above a fireplace. In the 3 frames are 3 white small-sized decals placed on framed canvases.
Our Promise
Irada promises to deliver you the absolute best Islamic decals available anywhere! We have a 365-day, 100% money-back guarantee, with very simple and affordable shipping to every country in the world! To top it off you receive a free decal with orders over $30! Our promises are manifest by the hundreds of positive feedback from customers all over the world and from the praise our artwork has received from master calligraphers.
What are you waiting for? Check out our extensive catalog of Islamic decals and make your order today!